History of Mobile Christian School
1961: In a January meeting at the Plateau Church of Christ a motion was made to establish a Christian school in the Mobile area.
1962: In May, C.H. McDonald made a motion that a Christian school be started, a board was selected, Incorporation completed, and enrollment begun. Actual operation began in September with 25 pupils in kindergarten and first grade. The Pleasant Valley Church of Christ served as the location for the school until 1972.
1963-64: C.C. Arquitt became principal and Superintendent. The school was expanded to the fourth grade and enrollment was 105.
1964-65: Charles H. McCrory was employed as Principal and fifth grade teacher upon the resignation of Mr. Arquitt.
1966-69: Billy Hilyer served as principal and Superintendent. In the fall of 1967 the 6th grade was added.
1969-70: Perry Lucas came to MCS and served a Principal and superintendent until the spring of 1974.
1971-72: The 7th grade was added with plans for an additional grade to be added each year until 12th grade. The portable buildings were used at the Pleasant Valley facility to accommodate the middle school grades.
1972-73: The school moved to its present location on Cottage Hill Road. The new campus consisted of the recently constructed elementary building and the portable buildings which had been moved from the Pleasant Valley location. The Student Council was formed. Mr. and Miss MCS and class favorites were selected. The school began scholastic basketball with several area private schools.
1973-74: John Hill, President of the Board, announced in March plans to sell interest bearing bonds in order to raise money for a new Jr./Sr. High school building.
1974-75: In June, Vaughn Duel ("Toby") Luster, Jr., became Principal. In the fall, the high school building was completed as the school opened its 13th year. The PTFA hosted its first May Day fundraising event. The Booster Club was started.
1975-76: The Board of Directors began the Crossroads Campaign as a means to finance capital improvements at the school. The Board set a goal to raise $400,000 through this effort.
1976-77: On Feb. 13, groundbreaking ceremonies took place for the construction of a new gymnasium. On Oct. 17-24 MCS had its first Homecoming Week and game. The construction of a new cafeteria was begun. MCS graduated its first senior class. Robin Pittman was the Valedictorian and Patti Slay was Salutatorian.
1977-78: Dan Harless succeeded John Hill as President of the Board
1978-79: Lamar Harrison Football Field and Stadium were constructed. First State Championship in Football.
1981-82: Under a new administrative structure Sharon Donaldson became Principal and Frank Harbin became Superintendent.
1983-84: The Bookstore opened for business.
1984-85: The Harry Miller Band Room was built.
1985-86: L.A.C.E. (Ladies Advancing Christian Education) began as a support organization. The first chorus tour was organized. New administrators were announced. Mike Powell succeeded Frank Harbin as Superintendent and Rick Whittle assumed a new position as Business Manager with Sharon Donaldson remaining as Principal. Silver Celebration activities honored the school's 25th year.
1988-89: New cafeteria constructed
1990-91: Computer Lab updated
1992-93: September 1, 1992 - earned accreditation with the Alabama Independent School Association. New Administrative Complex constructed that includes offices, library and bookstore
1995-96: Satellite campus at Azalea City Church of Christ, with Jackie Null as director, became part of Mobile Christian School
1996-97: Grady Weston was named Elementary Principal. The A. W. Johnson Elementary Building was constructed. New softball field built. Kicked off Something Special Campaign with goal of $650,000
1997-98: Added an Elementary Computer Lab. New computer for High School Computer Lab. New football field lighting. Re-bricked front of gym. New covered walkways. Lisha May named director of Semmes Campus
1998-99: Re-roofed gymnasium. Relocated elementary playground
1999-00: K3 added on main campus. Completion of football lighting. New carpet installed. Painted interior of high school. New administrative structure. George Holcomb added to administration
2000-01: Semmes Campus became independent school. New uniform adopted, gym air conditioned, baseball field lighted.
2001-02: 1st Blue Ribbon School Award. Robert T. (Tommy) Wasden became President. Drug Testing Policy instated.
2002-03: 2nd Blue Ribbon School Award. NCPSA Accreditation. New computers for both labs (K-12)
2003-04: 3rd Blue Ribbon School. Lorie Minor- Dean of Students. New Bible Building
2004-05 4th Blue Ribbon School Award. Mike Powell returned as Vice President. Dianna Naylor- Director of Academics & Guidance. Lorie Minor- Assist. Director of Academics & Guidance Portable Buildings eliminated. Western Hills Church facility became part of MCS campus. AISA/SACS Accreditation Visit. New Baseball Facility
2005-06: Tommy Wasden resigned as President. Mike Powell named President. Joey Adams-Dean of Students
2006-07: Tommy Wasden as Development Director. Lorie Minor named Principal. PTFA purchased covered walkways & new playground. Mike Powell resigned as president
2007-08: Tommy Wasden- reappointed President. David Pahman- Headmaster. Brad Blanton- High School Principal. Lorie Minor- Elementary Principal. Booster Club kicked off Athletic Complex. Enhancement (ACE) Campaign. Golden Leopard Endowment Fund established. 1st Annual Spiritual Emphasis Week
2008-09: Football Stadium expanded and new press box built by the Booster Club. Outside of K3 building painted with new mural. New football and boys' basketball locker rooms. Gym painted
2009-10: Dual Accreditation visits from AdvancEd & NCSA. New roof on administrative building. Band room remodeled. PTFA installed new landscaping on campus. Softball field renovated with new press box and dugouts. Girl's team room constructed
2010-11: Interactive Boards installed in every classroom. Joey Adams named Secondary Principal. Sharon Donaldson retires. Charter Bus purchased by PTFA
2011-12: Celebrated school's 50th Year with various activities (Alumni gatherings, 50th Dinner, Homecoming, Opening of time capsule, etc). Started on-campus Dual Enrollment for 10-12. Inducted Inaugural class into the MCS Athletic Hall of Fame. Elementary and secondary computer labs were updated. New laptops are purchased for all teachers. Renovated baseball field; Renamed Richardson Field.
2012-2013: Began Honor courses in all high school core subjects and honors track for graduates.
2013-2014: Dr. Deborah Curry began as Elementary Principal. The Board began the Mobile Leadership Series with Peyton Manning as the speaker for our first Benefit Dinner.
2014-2015: Implemented 1:1 devices for grades 4 through 12. Remodeled Upper Elementary hallway and bathrooms.
2015-2016: Remodeled library. Installed turf and new equipment on the playground. New asphalt on all parking lots. Remodeled gym. Dale Horn became Assistant Secondary Principal.
2016-2017: Remodeled cafeteria and upper elementary classrooms with new lighting and carpet. Dale Horn became Secondary Elementary Principal. Joey Adams became Athletic Director.
2017-2018: Vision 2020 Campaign began. Tommy Wasden resigned as President. Dr. Billie McConnell became Head of School. LED lighting installed on the softball field. Groundbreaking for the new elementary complex.
2018-2019: Former Western Hills church building remodeled into an Administrative complex. Band room moved to the Bible wing. Constructed a new on campus traffic pattern and a new two-lane exit. Clint Mitchell became Secondary Principal. Dr. Billie McConnell resigned. David Pahman became Head of School.
2019-2020: New elementary complex completed. Former elementary buildings remodeled into an Enrichment and Middle School buildings. K3 classrooms remodeled into the Women's Athletic Center. John Evers became Middle School Principal. Jason Smith became Director of Operations. All students converted to virtual learning from March to May, due to Covid-19 pandemic.
2020-2021: Former Band building remodeled into a training room and athletic bathrooms enlarged and remodeled. Gym foyer bathrooms remodeled. Covid-19 Pandemic required face masks, in-person and virtual learning, and many other precautions. David Pahman resigned as Head of School.
2021-2022: Tommy Wasden became the Head of School. Talley Haines became Assistant Principal. The school celebrated our 60th anniversary with a special Jubilee Dinner and Auction in December. Rubber mulch was added to the front play area next to the elementary building. Picnic tables and benches were purchased for the campus. The Brenda K Paul Scholarship Endowment Fund was established.
2022-2023: Clint Mitchell became Head of School. Lindsey Lyons began as Elementary Principal. Kathy Gallop was hired as Director of Academics. NCSA Accreditation visit was in February 2023. New LED lighting was installed on our football/soccer field and baseball field. Turf installation on the football field and stadium remodel began.

Pleasant Valley Location: Mobile Christian School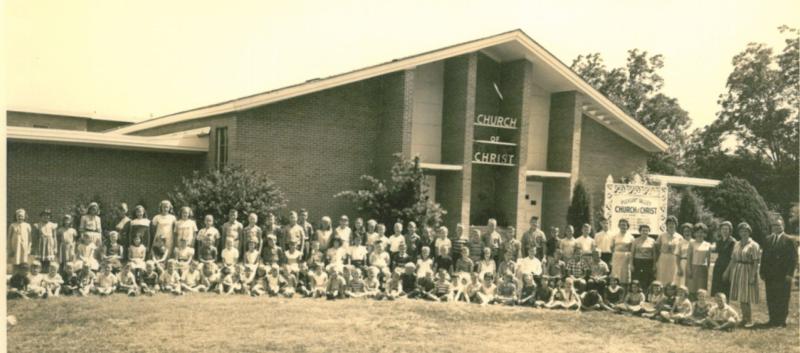 Cottage Hill Rd. location: Elementary Building

Cottage Hill Rd. location: High School Building