SUMMER BULLETIN
2021-2022 ORIENTATION:
High School Orientation for New 9th-12th grade: Orientation will be held in the gym for NEW students only 9th-12th grades on Tuesday, August 10 from 6:00 pm-7:00 pm.
Middle School Orientation for All 6th grade and New 7th-8th grade: Orientation will be held in the gym for ALL 6th grade students and New 7th and 8th grade students on Tuesday, August 10 from 5:00 pm-6:30 pm.
Elementary Orientation K3-5th grade: Orientation will be held in each classroom for K3-1st grade Monday, August 9 from 4:00 pm-5:00 pm and 2nd-5th grade Monday, August 9 from 5:00 pm-6:00 pm. Students will be able to meet their teacher and bring their school supplies during this time.
OPENING DAY OF SCHOOL: The first day of school for all students (K3-12th) is Wednesday, August 11th with classes meeting from 7:55-11:30 am (Elementary) and 7:55-12:00 pm (Middle and High School). All students should be in uniform with proper haircuts beginning August 11th. The full day schedule (for 1st-12th grade) will begin Thursday, August 12th. K3-K5 will dismiss at 11:30 am on August 11-13.
REGULAR SCHOOL HOURS: K3-5th grade school hours are 7:55-3:00 pm. Middle and High School will be dismissed after Elementary. 6th-12th grade school hours are 7:55-3:15.
BEFORE SCHOOL CARE: Before school care will be available beginning August 11th for K3-6th grades. Students may be dropped off beginning at 6:30 am. Register your child for before school care by signing the list in your child's classroom at Elementary Orientation.
AFTER SCHOOL CARE: After school care will be available beginning August 11th for K3–6th grades after school until 6:00 pm. Register your child for after school care by signing the list in your child's classroom at Elementary Orientation.
LUNCH ORDERS: Our lunch order procedures start Thursday, August 12th. You can place your child's lunch order and pay online through FACTS/RenWeb. If you choose this option, the order will need to be placed before 7:30 am each morning. Your child will also have the option to place an order in their classroom each morning and pay cash in the cafeteria during their lunchtime.
DEVICES: We would like to remind you about our shift to paper textbooks and the new use of technology that was mentioned in December of last year. Elementary students -No devices are mandatory for elementary students. Paper textbooks will be used, and Chromebook labs will be used periodically in the classroom. Middle and High school students - Chromebooks will be required for the 2021/22 school year.
SCHOOL UNIFORMS:
All students in PK3-12th grades will be expected to be in uniform in all respects. All uniform items should be purchased at Zoghby's Uniforms. Zoghby's Uniforms has several locations in the area (4851 Old Shell Rd, 5441 Hwy 90 W, and 905 Daphne Ave, Daphne).
All girls' skirts and jumpers must be at the required length (4" from floor when kneeling). Boys' pants must be properly hemmed. NOTE: PreK3 should purchase pull-on style uniform pants (and shorts – optional) with full elastic waist only. K3-5th grade boys will wear the grey polo shirt for their Monday uniform.
Shoes:
K3-K5: purchase solid white or solid black shoes with Velcro or side buckle only.
1st-12th:
GIRLS - Navy saddle leather oxford style with white laces or navy blue Keds saddle oxford. These are available locally at Zoghby's, JRays, or Shoe Station.
BOYS - Solid black leather lace-up oxford dress shoes with black shoelaces or solid, black leather loafers.
In addition to the girls and boys specific options above, casual style sneakers or tennis/athletic shoes may also be worn by both girls and boys.
Approved colors are:

Navy/Dark Blue (NOT - Royal Blue, Powder Blue, Carolina Blue, etc…)
White
Black
Grey

If the casual/athletic type shoe is worn, it should be a solid color with no patterns. Any visible trademark/logo should be the same color as the shoe or one of the approved colors listed above. Any visible and prominent stitching should be an approved color.
Any contrasting colors on the visible sole/midsole/bottom of the shoe should be one of the approved colors above. Any stripe around the visible sole/midsole side area (common on the Converse brand) must also be one of the four colors listed. The only exception to this is the various shades of brown rubber soles common on many shoes. Any brown color on the sole should not extend to a visible area of the shoe.
Slip-on/loafer-style casual athletic shoes are allowed and must meet all the same guidelines listed above.
If a shoe is designed to be worn with shoelaces, matching shoelaces must be worn. The laces must be one of the four allowed colors listed above and must be properly tied. Elastic or no-tie style shoelaces should have the look of conventional shoelaces and should not be the curly style.
Shoes must always be worn with the foot fully inside the shoe.
High-top shoes and boots are NOT allowed.
Excessively worn and dirty shoes should be replaced.
PE UNIFORM CHANGE FOR MIDDLE SCHOOL: Due to difficulty in ordering, there will be a change in the PE shorts required for both boys and girls in middle school. However, the 2021-2022 school year will be a transition year and students will be allowed to wear either the shorts required in previous years or the new ones. In the 2022-2023 school year, only the new shorts will be permissible. At this time, there is no change in the PE shirt.
BOOKSTORE INFORMATION: For your convenience, this year we are teaming up with Olensky Brothers and selling pre-order school supply packs through their website. For K3-8th grades, you can order and pay online at http://olenskybrothers.wixsite.com/backtoschool/mobile-christian until July 23rd if you prefer to not shop for the required items on your own. (A school supply list is included in this mailout.) Those packs will be delivered to the school and can be picked up in the bookstore when you come in to purchase your child's workbooks. All students in K4-5th grades have required workbooks, 6th-12th grades do not.
The 2021-2022 elementary required workbooks can be purchased in grade level bundles from the school store beginning July 28th.(This is NOT included in school fees)
K4 - $13.75
K5 - $51.25 includes Parent Communicator Folder
1st - $57.25 includes Parent Communicator Folder
2nd - $53.00 includes Parent Communicator Folder and Supply Box
3rd - $53.75 includes Parent Communicator Folder, Nicky Folder, Student Planner, and Supply Box
4th - $69.50 includes Parent Communicator Folder, Nicky Folder, Student Planner, and Supply Box
5th - $62.50 includes Parent Communicator Folder, Nicky Folder, Student Planner, and Supply Box
The bookstore is scheduled to open on Wednesday, July 28th in the Leopard's Den. The hours are 8 am-4 pm Monday- Friday until school begins and 7:30 am - 3:30 pm after August 10th. We will also be open Saturday, July 31st from 9 am - 12 pm and extended hours on orientation days. If you have any questions, please feel free to give us a call at 445-5326.
TEXTBOOKS: Students will be assigned their hardcover textbooks in class and are required to put their name in the book and keep a protective book cover on it throughout the year. No tape or adhesive should come in contact with the book itself. Students will be required to turn in the textbooks with their assigned number at the end of the school year before accounts will be cleared and grades released.
PARKING PERMITS: Seniors can get their parking permits starting on Friday, August 6th from 1 pm - 3 pm. Juniors or seniors can get their parking permits on Monday, August 9th from 1 pm - 3 pm. Any other student who has not received a parking pass by that time can come on Tuesday, August 10th from 1 pm - 3 pm. Please remember to bring insurance information, driver's license, and payment. Parking Permits cost $20. Spots will be issued on a first come, first serve basis while considering vehicle size.
SENIOR RETREAT: The plan is for our Seniors to kick off the 2021-2022 school year with a retreat at Gulf Coast Bible Camp on Friday, August 13. More information to come.
BIRTH CERTIFICATES: It is mandatory that all students have a copy of their birth certificate on file at school. If the office has not made a copy of your child's birth certificate, please bring it by the main office so we can copy it before school begins.
IMMUNIZATION CERTIFICATES: It is mandatory that MCS have a Blue Certificate of Immunization for all students on file by the first day of school. Please check with your physician to be sure that your child's immunizations are up-to-date. A new certificate will be required for students who are due vaccine boosters and for those entering the 6th grade. Expiration dates must be recorded on the certificate. If you have any questions regarding this, please contact Diane Burch in the middle school office.
FACTS/RENWEB: FACTS is our program through which parents can check grades, absences, schedules, order lunches, etc. To create your FACTS account, please go to https://factsmgt.com/ and click logins on the menu bar. The drop down will show ParentsWeb and then go to Create New ParentsWeb Account. Our school code is MC-AL. If you have not given the office your email address, please be sure and do so. If you have moved in the past 6 months please make sure the school has all of your updated information. Contact Diane Burch, our registrar, for any questions.
CALCULATORS GRADES 6-12:
Calculator policy: Calculator apps are available on Chromebooks but will not be allowed on any MCS or standardized tests. Therefore, the following calculators will be required in our math classes for grades 6-12: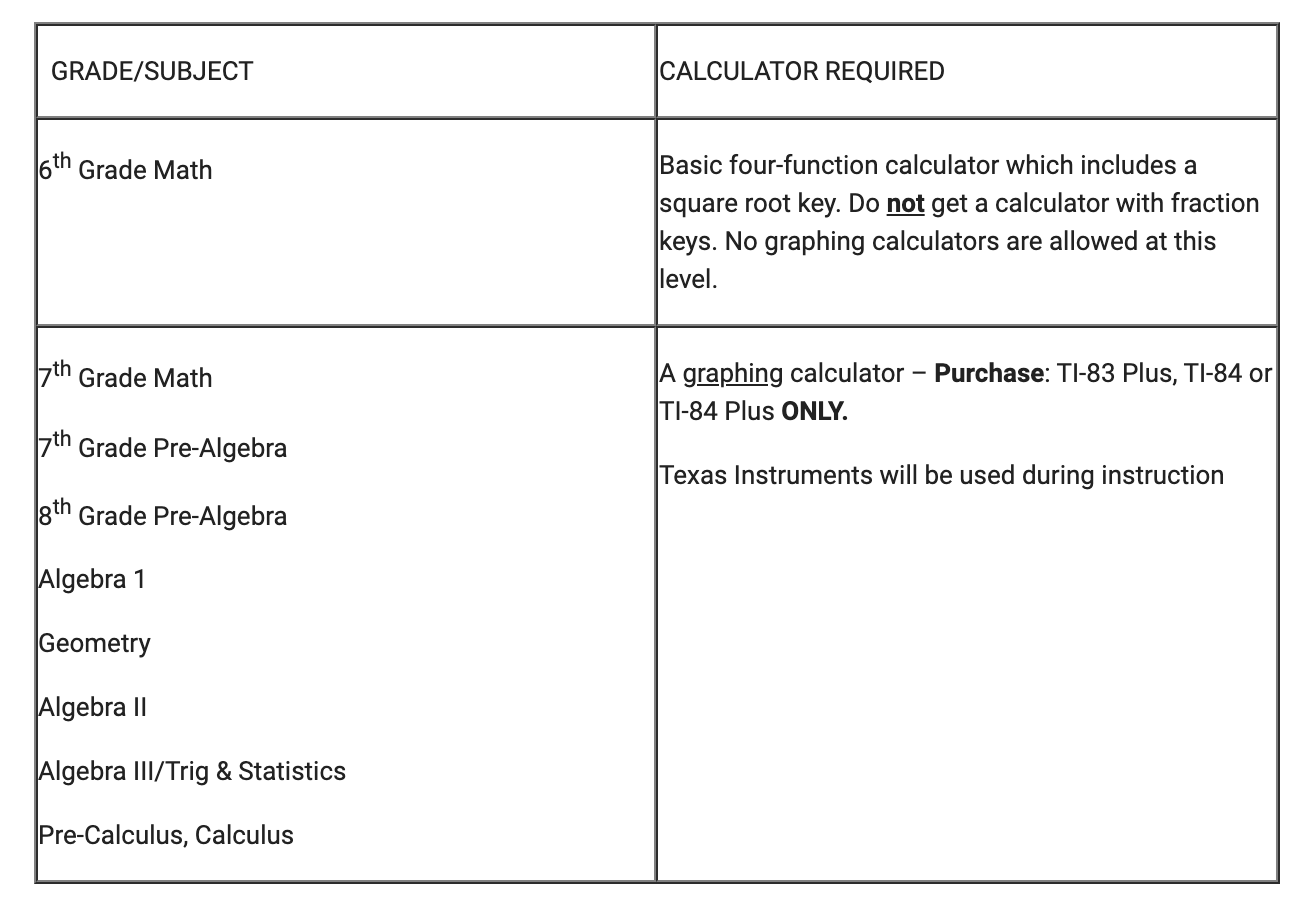 CLASS OF 2022:
Watch your mail for a notice of your scheduled time to get your Senior Portraits. Pictures will be made by Jim Owens. You must have your pictures made by Jim Owens for the yearbook to ensure uniformity. Seniors need to contact Jim Owens Studios at 476-1514 to schedule their drape/tux pictures. There is a $30 sitting fee but you do not have to purchase a package. This is for uniformity in the yearbook.
YEARBOOKS:
Yearbooks will need to be purchased as they are not covered in the fees. Books will be offered at a pre-sale price of $65 until September 14. After that date, the price will increase to $75.
YEARBOOK AD: Yearbook ad prices are listed as follows:
Full page ad is $300

Half page ad is $150
Quarter size ad is $100
Business card ad is $50
All Senior and business ads will be in color and will be available to purchase online. These must be purchased and created online by February 28th.
SECURITY GATES: The security gates will open each weekday morning at 6:15 am and will close at 8:15 am. Gates will reopen each weekday afternoon at 2:25 pm. Please do not arrive for student pickup before this time. We want to ensure the safety of the students as they change classes.
SCHEDULES for 6th-12th grades – an email will be sent when these are available to view on FACTS/Renweb. For any changes, a schedule change request form must be filled out and returned to be evaluated.
LOCKERS: Lockers are pre-assigned and will be noted on your student's schedule, along with their combination. If you have any questions, please contact the office.
SUBSTITUTE TEACHER TRAINING will be August 25th at 8:30 am in the Leopard's Den. We encourage you to consider substituting this year!
CONCESSION STAND: If your child/children plays a sport or is in the band, you must volunteer 5 hours a year in the concession stand or pay $50 in order to hire and pay someone to work in your place. This fee is per family.
FALL SPORTS INFORMATION:
Elementary Football – 3rd-4th: Coach Marshall Barstow, cell # 786-1448
5th-6th: Coach Hank Oakes, cell # 680-2693
Middle School Football – Coach Anthony Jackson, cell # 487-9529
Varsity Football – Coach Ronnie Cottrell, cell # 237-1937
Cross Country Coach – Brittani Sigle, cell # 806-281-8172 & Mike Powell, cell # 753-0056
Volleyball Program – Varsity Coach Autumn Parker, 661-1613
BAND: Robbin Holder, cell # 770-655-0997.
New Marching Band Member Rehearsal - Friday, July 23, 9am-11am
Band Camp - Monday-Friday, July 26-July 30, 8am-4pm
and Monday-Tuesday, August 2-3, 8am-4pm
Preview Show and Picnic - Friday, July 30, 6pm
Mobile Christian Football Schedule 2021
August 20 Jamboree (Home) Mobile Christian, St Michaels, Marengo
August 27 UMS Wright (Away)
September 3 ECHS (Home) Region Game
September 10 W.S. Neal (Away) Region Game
September 17 Vigor (Away) Region Game
September 24 TBA
October 1 Pensacola Catholic (Away)
October 8 St. Michaels Catholic (Home)
October 15 Jackson (Away) Region Game
October 22 Williamson (Home) Region Game
October 29 B.C. Rain (Home)
Mobile Christian Volleyball JV/V 2021
Date Opponent Home/Away
8/19/21 Faith Home 4:30/5:30
8/24/21 Chickasaw V Only Away 4:30
8/26/2021 St. Michaels Home 4:30/5:30
8/28/21 JV Saraland Tournament TBD
8/31/21 St. Luke's Home 4:30/5:30
9/2/21 Cottage Hill Away 4:30/5:30
9/7/21 Murphy Home 4:30/5:30
9/9/21 UMS Home 4:30/5:30
9/14/21 St. Luke's Away 4:30/5:30
9/16/21 MGM Away 4:30/5:30
9/18/21 V Saraland Tournament TBD
9/23/21 Cottage Hill Home 4:30/5:30
9/27/24 Bayshore Home 4:30/5:30
9/30/21 B.C. Rain Away 4:30/5:30
10/4/21 Davidson Away 4:00/5:00 note the time change
10/5/21 Satsuma Away 4:30/5:30
10/7/21 Chickasaw (Sr. Night) V Only Home 4:30
10/12/21 AREA Tournament TBD